National Poetry Day
On Friday 2nd October, to celebrate National Poetry Day, we welcomed Luke Wright and Harry Baker into school, two performance poets, who performed for learners in Years 9-11. Below are some of the fantastic comments we received from parents and learners about this experience! Thank you to all parents and learners who took the time to complete our surveys. This really does help us when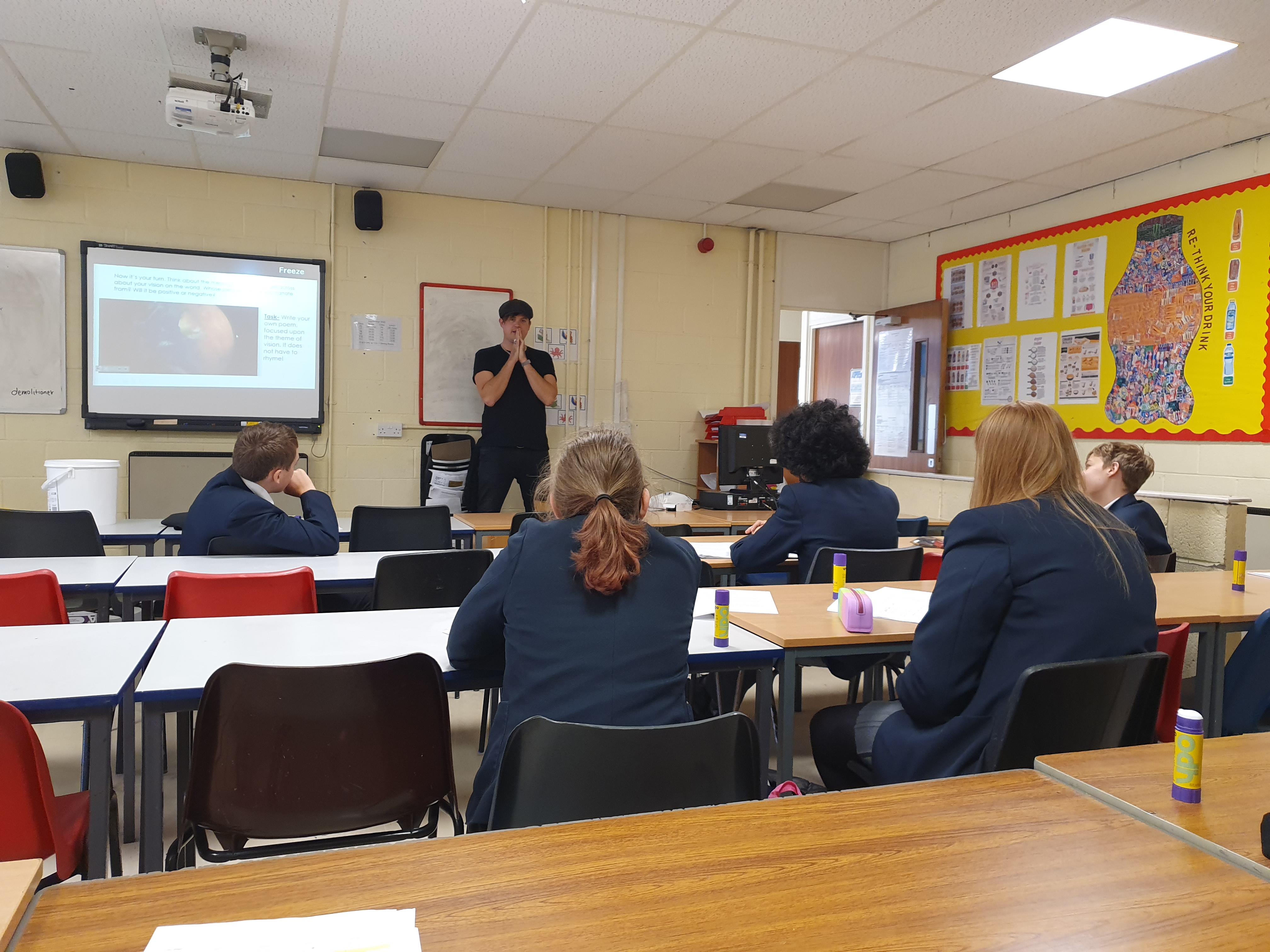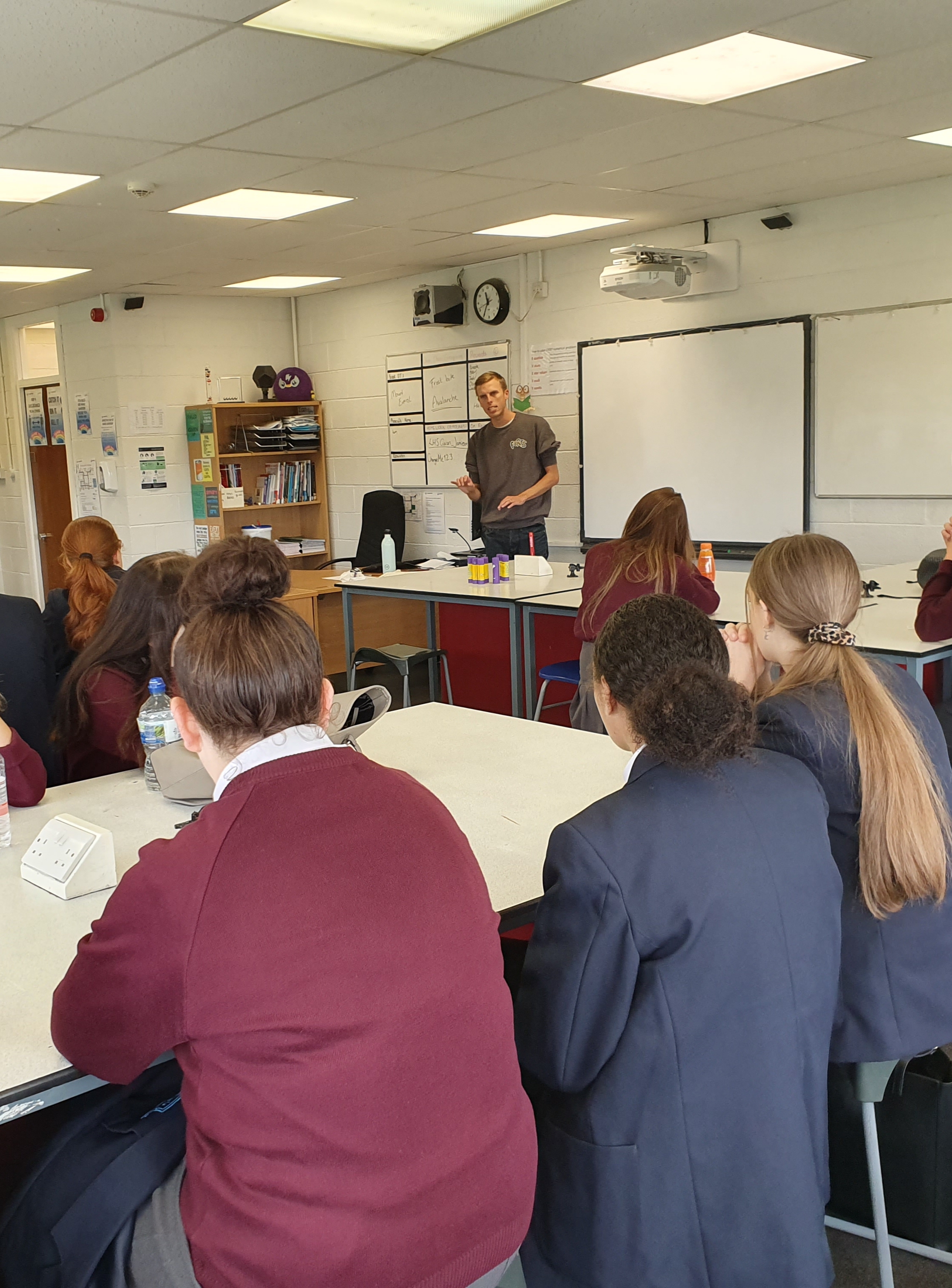 Luke Wright Review by Isabelle Thomas
Luke began with a poem called 'B movie', the story is set in Brentwood, surrounding a 'bawdy, big bellied man who beat up his bird' named Barry, who fights a 'blob'. One thing I loved about this poem was the constant alliteration of the letter 'B' throughout the piece, creating an almost song-like effect. This poem was hilarious, so instantly captivated the whole class, despite maybe their previous apprehensions about performance poetry.
Over the course of the hour, Luke performed several different poems, with storylines involving commuters, his family and abseiling popes! Luke also performed a 6-part poem, which was around 25 minutes long. This piece was about the life of 'The Boxing Baroness', a classic rags to riches story, with a twist. The poem is set during Georgian England and draws its inspiration from Broadside Ballads. Broadside Ballads are essentially long pieces of paper, with verse written on one side of the page, these were a common way for people to receive news in Georgian times. These verses were often performed as song to spread the latest gossip, similar to how we might read tabloids today. However, the verses are often bad and barely rhyme, so Luke has begun re-writing some of them, including the story of the 'Boxing Baroness'. I was amazed at how Luke was able to remember 25 minutes' worth of poem, and perform the piece using different accents allowing the characters to be much more distinguishable.
If you ever get the chance to see Luke Wright perform live, do it! He is an incredible poet, who performs each piece with so much energy and commitment to each character. His poems are very varied, some humorous, some serious, each one captivating the audience. He is a must-see poet!
Harry Baker Review by Gulliver Hubbard
It's not often you find yourself enjoying a Friday afternoon of spoken word with a World Slam Poetry champion, but this is exactly what lucky Longdendale learners had the opportunity to experience in celebration of this year's national poetry day. Harry Baker, who often incorporates his passion for maths into his work, captivated learners with peculiar dinosaur noises, bumblebee related performance and a love poem for prime numbers, and as the exciting programme drew to a close, learners were able to ask questions all about Harry's work. The session opened the eyes of many to the potential of modern-day poetry and the joy of spoken word, but most importantly, no one left without a smile on their face. The visit was certainly one to remember and it is truly great to see that the pandemic is not preventing Longdendale from providing amazing opportunities and enriching events.